Relief From Tourette Syndrome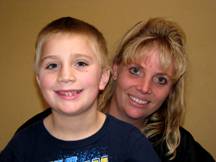 My name is Justin V. I am seven years old and I came to Abundance Acupuncture in November, 2011 because I was suffering from a head movement disorder caused by stress, anxiety, an upset stomach, heat spells, and a lack of energy.
I had this problem for four years. I felt sick to my stomach and often got so worked up that I would vomit. I would feel really warm, my head movements started up, and sweat ran down my body. It was embarrassing when this happed at school. It was difficult to do my best when all I wanted was to go home and take a shower. These problems also made it difficult for me to sleep and then I felt even more tired and irritable. I just wanted to sleep all day.
I tried chiropractic and Tourette syndrome medication, Haldol, Risperdal, and antidepressants. But I ended up with night mares and felt agitated, weak, and sleepy all the time.
I began to feel significant improvements in my condition after four treatments at Abundance Acupuncture. At this point in time I feel 80% better. I now feel energized and can eat all of my meals because I donít have an upset stomach anymore. I am able to focus and know what is going on at school. I am less agitated, laugh a lot more, and enjoy playing with the rest of the kids. My head movements have lessened and I can now ride my bike without training wheels and ride my Razor 4-wheeler all by myself.
During the treatments I felt relieved that something was actually helping me. The clinic at Abundance Acupuncture is wonderful and the staff is great. I enjoy taking my herbal pills because they help me a lot with school and my academics. If you have Tourette syndrome or a movement disorder Chinese herbal therapy can make a big difference.