Depression, Acid Reflux, & Weight Loss

My name is Margot Z. I came to Abundance Acupuncture in January 2008 because I was suffering from depression and pain in my low back and hip. The depression had been going on for 23 years and made me feel miserable. My energy was low, I was easily overwhelmed, had difficulty sleeping, was irritable, and I felt hopeless. Depression made it difficult for me to socialize, exercise or be active, and I missed days from work because I felt so fatigued. Everything was more difficult. The low back pain had bothered me for 10 years and at times it reduced my mobility so severely that I was unable to go anywhere or do anything.
I tried medications such as tricyclic antidepressants, MAO inhibitor antidepressants, and SSRI antidepressants which caused me to gain a lot of weight. The antidepressants also made it difficult to focus my mind and caused problems with my memory. I got some temporary relief from the hip and back pain with chiropractic and physical therapy, but the pain came back again.
I began to feel some improvements in my condition after two or three treatments at Abundance Acupuncture. In February, after a month of treatments, I felt good enough to start reducing my antidepressant medications. At this point in time my condition feels 80% better. I have stopped taking all of my antidepressants and I now feel good again. I get up and get going everyday and have been able to start living my life again. I feel more comfortable around other people and I am not missing work anymore. I am even able to work 60 hour weeks again.
I have also had significant improvement in other symptoms like my acid reflux and irregular bowel movements. I have not had any migraines since I started treatments and have even lost 30 pounds! I stopped taking birth control pills (to control my migraines), stopped needing to take allergy medicine, and have not taken any Tylenol for pain.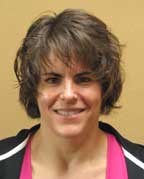 P.S.
It's three years later and Margot has changed so much that we asked if we could take another picture. Since she has felt well enough to exercise she has been working out on a regular schedule. Go Margot!