Relief from Menopausal Depression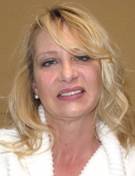 My name is Shelly J. I came to Abundance Acupuncture in December 2012 because I was suffering from depression associated with menopause. This was a problem that I suffered with for many years. It came with fatigue, muscle pains, hot flashes that interrupted my sleep, and, although I no longer had my period, I had a vicious monthly cycle that left me drained and frustrated.
My depression and irritability made me feel hopeless and embarrassed. I had fewer social contacts and interacted less with my family. At times it was difficult for me function to my best ability at work.
I tried medications such as Celexa, Tramadol, Ibuprofen and physical therapy. I even tried to find the right vitamin supplements but I only had very temporary and partial relief.
I began to feel some improvements in my condition after two treatments at Abundance Acupuncture and after the first two weeks my colleagues at work noticed that I was looking and feeling much better. At this point in time my condition feels 80% better. I now feel empowered to pursue activities beyond my daily activities without hesitating because it might aggravate my condition. The hot flashes are not waking me up at night and my cyclical mood changes are less extreme.
During the treatments I felt incredibly peaceful and relaxed. The clinic is hospitable and the staff is knowledgeable and compassionate. I would recommend acupuncture to any one because if provides far better healing than traditional therapies.