Allergies for 30 Years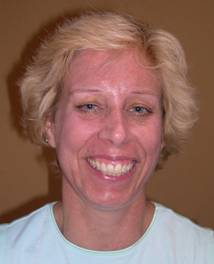 My name is Vickie F. I came to Abundance Acupuncture in August, 2006 because I was suffering from allergies, especially fall ragweed, but also grass, dust, and cats. I had this problem for 30 years and even though I had tried allergy shots for eight years I still required daily doses of Claritin D and nasal sprays.
This problem made it difficult to focus or to think clearly. It was like walking around in a fog. I also had the annoyance of having to always carry large quantities of Kleenex around because my nose was always dripping. I was constantly congested and had itchy, watery eyes which irritated my contacts. I had headaches, especially between my eyes, which made it difficult for me to concentrate and work efficiently. I also noticed that I would become tired easily. I tried medications such as Claritin D, Allegra, Nasonex, and a sinus nasal rinse. The nasal rinse helped significantly but I still required daily meds.
I began to feel some improvements in my condition after 10 treatments at Abundance Acupuncture. At this point in time my condition feels 95% better. I am now headache free, my congestion is gone, and I am able to function normally. My thinking is clearer, my eyes do not itch anymore, and I rarely need to blow my nose. I am off the Claritin D, but continue to use the nasal rinse daily.
During the treatments I felt relaxed. Sometimes I could feel my sinuses draining as I rested. I looked forward to having my treatments. The office staff is welcoming and friendly. I would recommend acupuncture to allergy sufferers because I was able to control my allergy problems and improve my overall health.