Relief from Sciatica and Low Back Pain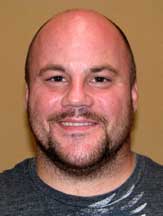 My name is John T. I came to Abundance Acupuncture in September, 2014 because I was suffering from low back pain and sciatica. I had this problem for 6 years, 4 months, and 21 days. When the pain was at its worst it was more than a level 10 on a pain scale of 1 to 10. It has dropped me to the floor at home, while shopping in a store, and at ball games.
One time while I was praying at church I fell - bam - right on my face. The pain kept me from working and financial issues lead to arguments which strained my relationships with my family. The pain made it difficult to sleep more than one or two hours a night and I ended up feeling fatigued, irritable, hopeless, and depressed. I missed birthdays, Christmas, and other family functions because I hurt too much to attend.
I worked with 7 doctors, did 87 physical therapy visits, tried chiropractic treatments, and medications such as Diclofinac, Cyclobenzaprine, and Oxycodone. I ended up dependant on the narcotic pain meds while the other pills were ruining my liver and stomach.
I began to feel some improvements in my condition after three treatments at Abundance Acupuncture. At this point in time my condition feels 68% better. I feel fully charged and ready to take on the world. I can walk with my back straight, dance with my wife, and jog with my son. I crawl around on the floor with my daughter, watch her smile and laugh as I roll around with her on the floor. I can be intimate with my wife more often and with less pain.
During the treatments I could feel the energy of youth filling my veins and surging through my acupuncture channels. The clinic is stupendous and the staff is worth more than words can describe in this lifetime or any other. I would recommend acupuncture to the world at large because it is the one and only treatment that has given me my life back one treatment after another.
If you are hesitant about getting acupuncture stop being a worry wort. Make the leap across Western medicine and get treated by this most amazing medicine. The one and only way to go is Oriental medicine!!!
More Back Problem Testimonials