Beaver Dam Daily Citizen In My Shoes 9-3-2012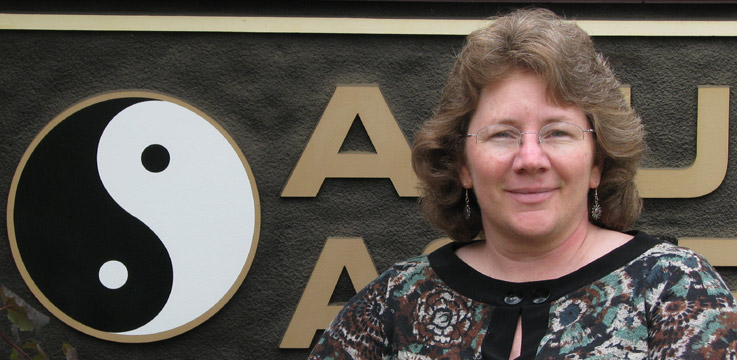 Beaver Dam Daily Citizen Business News 9-3-2012
Shari Friedrichs of Abundance Acupuncture, Beaver Dam has recently become certified as a Diplomat of in Oriental Medicine by the National Certification Commission for Acupuncture and Oriental Medicine. Shari has been with Abundance Acupuncture since 2005. She graduated with a Bachelor of Science degree in Nutrition and a Master of Science degree from the Mid-West College of Oriental Medicine in Racine, WI. She was awarded a state license to practice Acupuncture in 2008.
Shari specializes in treating children and women's health issues with Acupuncture and Chinese herbs. Her post graduate studies include classes at Guangzhou University in China, a three year graduate mentorship program with Sharon Weizenbaum, a world renowned Chinese herbalist, and further studies in pediatric acupuncture. Shari can be reached at Abundance Acupuncture at (920) 356-1578.
Inspire Magazine March 2011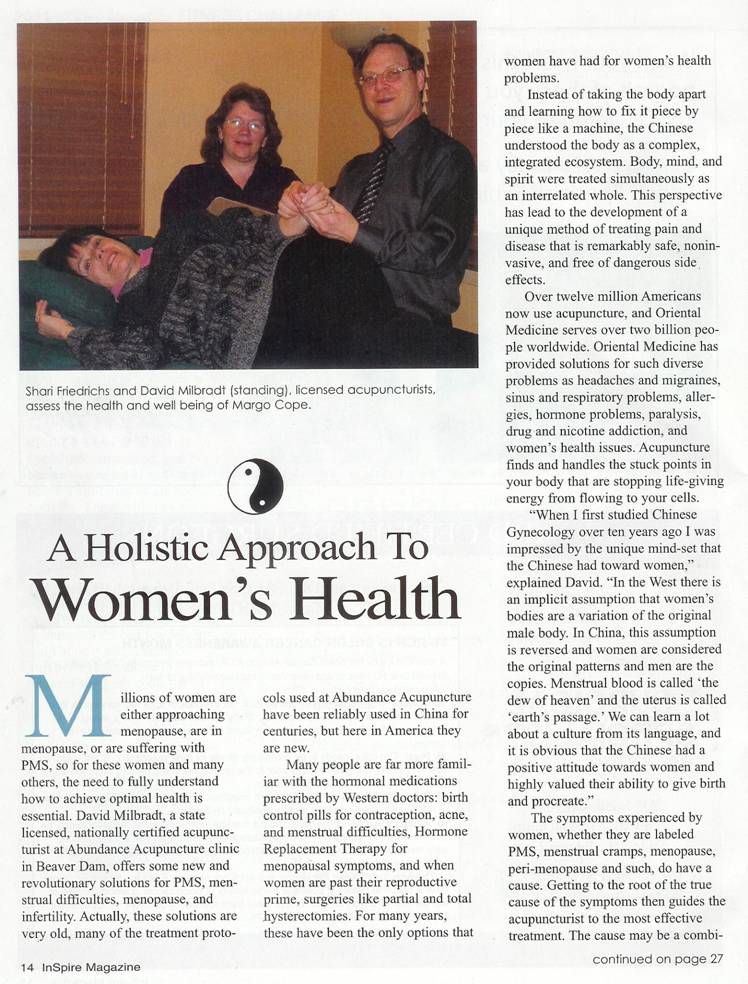 (continued from page 14) nation of several problems: xenoestrogens, improper diet, stress, deficient or stagnant blood, a malfunctioning organ like the liver, or the side effects of medications like birth control pills.
"This positive mind-set allowed Chinese doctors to develop gentle, yet highly effective methods for working with women's health issues," David added. "When I first started practicing I was amazed by the results and as I continue to work with more and more difficult cases I am still amazed again and again."
Shari Friedrichs, a state licensed acupuncturist at Abundance Acupuncture, specializes in working with women's health issues. She has been able to help many women find relief from debilitating menstrual cramping and from Premenstrual Syndrome, a condition that for some women can last up to ten days out of the month.
"I was suffering from horrible menstrual periods that gave me severe back pain, cramps, nausea, and sickness," said Laura McDonald. "I had this problem for four years and it caused such awful pain in my lower back and abdomen that it made it painful to move during the first day or two of my periods. It would sometimes be so bad that I would get physically sick."
Laura found relief through acupuncture and would recommend this type of treatment to anyone dealing with pain, especially women's health issues. She found it to be effective without putting chemicals or hormones into her body
Both David and Shari have also successfully treated many women with menopausal issues like hot flashes, mood swings, insomnia, and depression. Chinese medicine is also a very effective treatment for infertility. In the past few years, they have helped numerous women who did not think that they would be able to have children to conceive and have healthy babies.
Carolyn Huenink came to Abundance Acupuncture because of fertility issues; she and her husband had been given a Western medicine diagnosis that both were sub-fertile. She had fertility issues for one year before seeing David and intense PMS for the last five years. Carol said she felt an improvement within three months of beginning treatments and soon was pleased to announce that she and her husband were expecting a child.
"During the treatments I felt relaxed and peaceful," she said. "There were treatments during which I literally felt energy move from place to place. It was so interesting. The clinic is very clean and comfortable and the staff is friendly and always willing to help."
Chinese medical gynecology is so gentle, safe, balancing, and effective that contemporary medical hormone drugs and surgeries often seem brutal and primitive by comparison. This is especially true when it comes to dealing with issues of infertility. With oriental medicine, fertility is promoted by restoring health and balance. When a woman is truly healthy, she is naturally fertile and can easily become pregnant.
According to the National Institutes of Health, there are few, if any, negative side effects from acupuncture treatments. Acupuncture has not only survived the scrutiny of western science and controlled, double-blind studies, it has been endorsed by a National Institutes of Health consensus committee for use as treatment for many health disorders.
David and Shari provide monthly lectures and workshops at the Beaver Dam Community Hospital. They are always ready to answer any questions to help women make an informed decision on the various natural ways to help with PMS, menopause, infertility and other women's health issues. Visit the Abundance Acupuncture website for the current schedule of upcoming workshops and additional information at www.acupuncturerestoreshealth.com
Inspire Magazine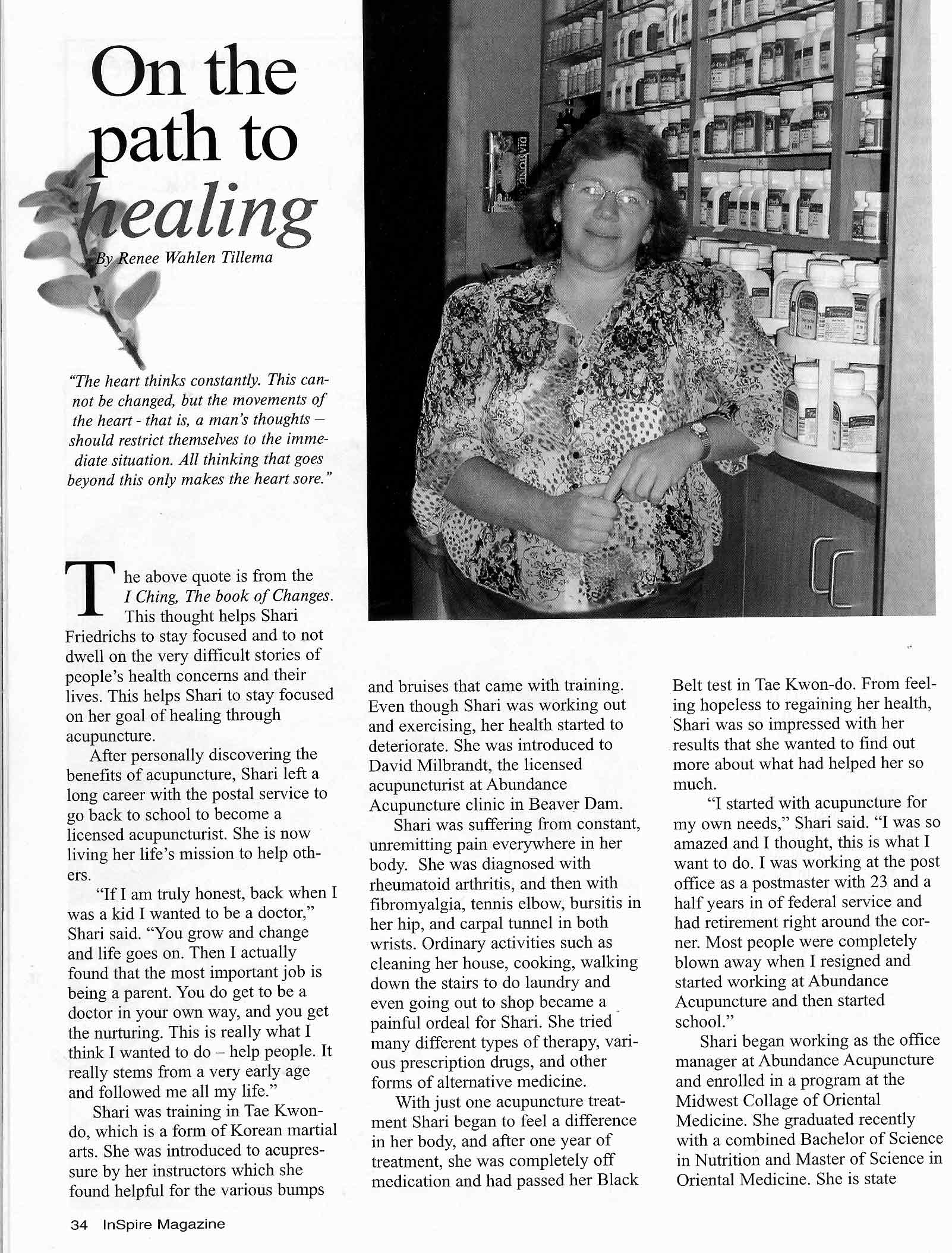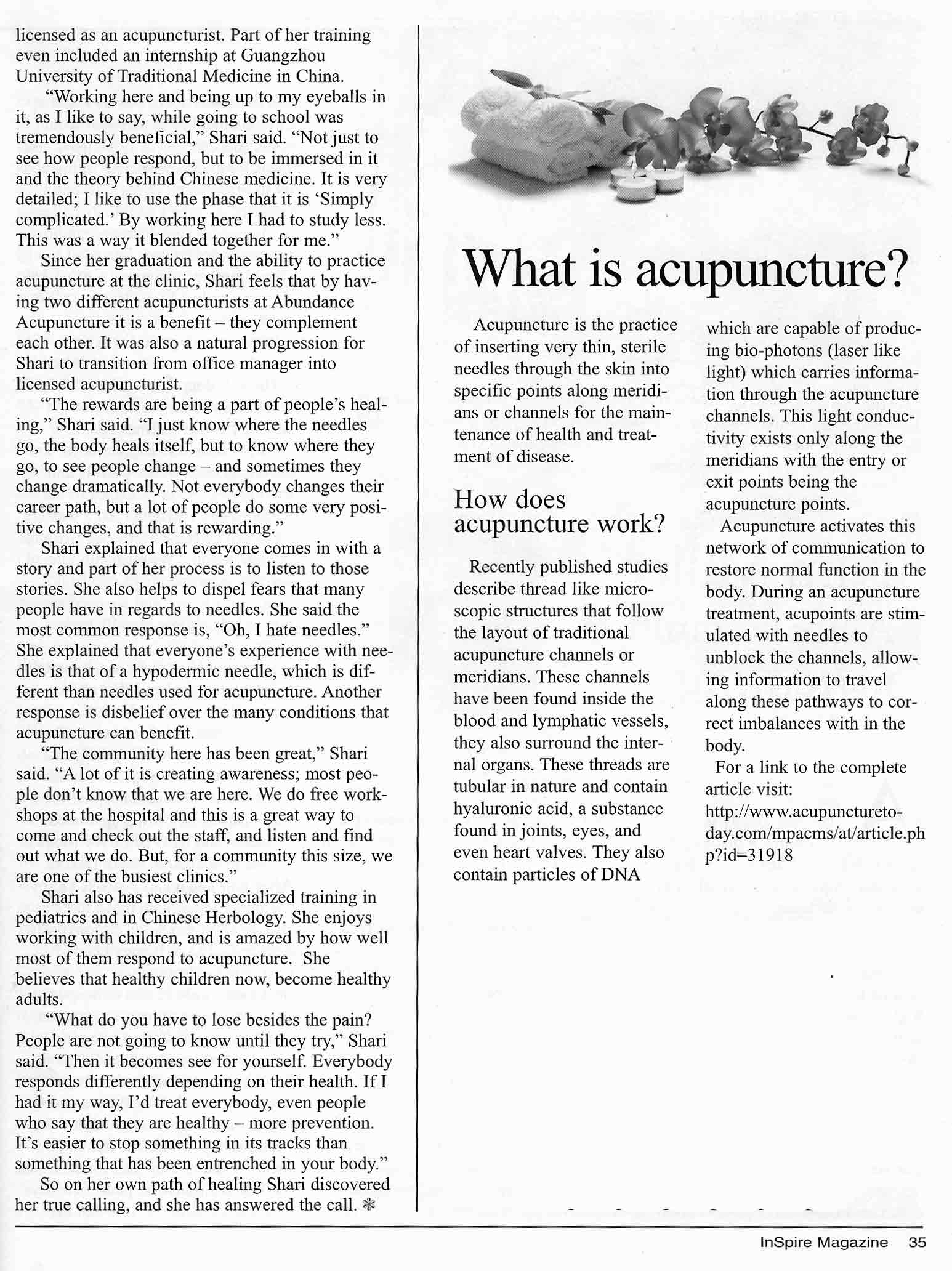 Beaver Dam Daily Citizen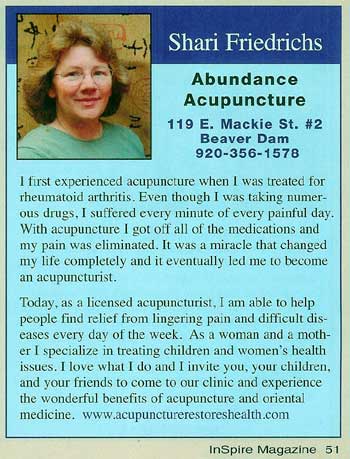 By Jean Hill, RN
Beaver Dam Community Hospital
"To be pain fee changes your life. You are more positive about all the
things you are able to do once again. It feels GREAT!" These are comments made by a Beaver Dam woman whose chronic arthritis pain was relieved by acupuncture. Jane had had pain for over 10 years in her knees, hands, spine, and hip that was not responsive to medica­tion. For Jane, acupuncture was the answer. Following five treatments, Jane reported relief of her pain.
Complementary therapies, like acupuncture, are often used in conjunc­tion with traditional medicine to treat a number of conditions, including chronic pain. The National Institutes of Health states that acupuncture "may be useful for addiction, stroke rehabilitation, headaches, menstrual cramps, tennis elbow, fibromyalgia, myofascial pain, osteoarthritis, low back pain, carpal tun­nel syndrome, and asthma. Acupunc­ture may also be beneficial in relieving the nausea and vomiting associated with chemotherapy injec­tions."
Acupuncture is a form of treatment that has been used for over 2,000 years. It is part of Traditional Chinese Medicine (TCM). TCM is based on the idea that problems in the body such as illness, pain, and dysfunction are caused by an imbalance of life force energy or chi. Chi f1ows through the body in channels called meridians, which pass through all the organs. Specific meridians relate to specific organs or organ systems. While effective at targeting specific symptoms such as pain, the impact of acupuncture can be much broader. Because the goal is to balance the flow of life energy, often the overall state of health is altered. The patient may see improvement throughout the body, and may have more energy and lifted mood as well.
During an acupuncture treatment, very, very thin sterile needles are insert­ed into points on the surface of the body along the meridians to a depth just below the surface of the skin. The points are selected based on the diagnosis and goals of treatment. Diagnosis in TCM is based upon patterns of signs and symptoms and may require the first office visit to complete. To diagnose, the acupuncturist examines the skin, complexion, bone structure, smells, sounds, mental state, preferences, emo­tions, tongue, pulse, demeanor, and body build. With this information, the acupuncturist gets an idea of the under­lying patterns that may be causing the patient's complaints.
When the diagnosis has been made and the patient's goals for treatment dis­cussed, the patient reclines on a com­fortable treatment table. The acupunc­turist inserts the needles with such a gentle technique that the patient remains comfortable throughout. Depending upon the point of insertion and the patient, the needles may not be felt at all as they go in, or there may be an instant of tingling, soreness, warmth, or heaviness. The needles are left in place, while the patient rests on the table lis­tening to quiet music, usually for about 30-45 minutes. Often the patient may even drift off to a light sleep, as the pro­cedure is very relaxing. One patient wrote, "1 was very leery. I had this thing about needles that made me nerv­ous. I had had severe knee pain from arthritis for over 25 years, so I was will­ing to try anything. When I had my first treatments and the pain was leaving 1 was very surprised and happy. It has been about 4 months and I have very lit­tle pain left. And, oh yah, the needles don't hurt!"
Each individual is different. No one treatment method solves every medical problem for every individual; therefore, a current trend in health care is to offer a blend of approaches to find the bests solution for the individual patient. Talk with your primary care provider to find what's right for you.
Acupuncture is available at Beaver Dam Community Hospital. For appoint­ments with Mr. David Milbradt, licensed acupuncturist and herbalist please call the BDCH Rehab Services Department at (920) 887-4039.
All of the anecdotes mentioned in this article are from patients of Mr. Milbradt. For more information about acupuncture visit www.bdch.com and click on "Our Services" and click on the highlighted word "acupuncture". Published in InSpire Magazine.
DAILY CITIZEN BEAVER DAM, WISCONSIN 3-27-04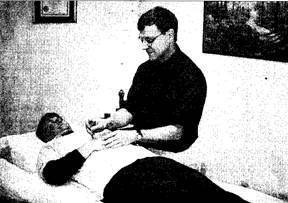 Restoring Balance
Acupuncturist brings Positive energy to job
By Lisa Cetskowski Lifestyles Editor
Acupuncturist David Milbradt demonstrates how a needle would be inserted into the hand of Cindy Zieman. Acupuncture needles stimulate certain points which can help the body restore its energy balance and treat symptoms ranging from arthritis to depression
Ancient Chinese medicine has arrived in Beaver Dam courtesy of David Milbradt. Milbradt, a Madison acupuncturist and herbalist, began seeing patients at the Sports Medicine Center earlier this month.
"My interest first started with herbs," said Milbradt, who also sees patients at Rubert Chiropractic Clinic in Fall River. "I saw people heal from problems they having real difficulty with. It was an inspiration to see people get better."
Milbradt's interest in herbs eventually led him to acupuncture, a complex branch of Chinese medicine based on "Qi," the energy that flows though the body.
He trained in a three year program at the Midwest College of Oriental Medicine in Racine and was certified and licensed in acupuncture. He has been in practice for six years at his own clinic in Madison, Abundance Acupuncture & Herbs.
At the core of Chinese Medicine is the belief that energy disturbances in the body cause symptoms, such as headache or fatigue to appear, Milbradt said. And if you change underlying condition, the body will repair itself.
With acupuncture, needles are inserted to stimulate specific points of the body, restoring the energy balance and making symptoms disappear, often in a very short period of time. "For example, if someone has a headache, you can often see instantaneous relief, as soon as you put the needle in," said Milbradt.
That was the case for Mary Anne Miller of Beaver Dam, who saw Milbradt last July after a stiff neck left her in so much pain she could barely turn her head. After one treatment the pain was gone. Then she asked Milbradt if he could do anything to alleviate, the chronic back pain that she had been suffering from for 20 years.
"I went to doctor after doctor, but they couldn't do anything for it," said Miller, a dance teacher who eventually was forced to close her business, Miller Academy of Dance, because of her pain. The bottom line was, 'Live with it."
She doesn't live with it any more. Acupuncture treatments have made her back pain disappear. "I feel the best now that I have in 20 years," she said. In fact, Miller feels so good these days that she's started teaching dance lessons again.
She continues to receive treatment to keep her back pain at bay, and for any other problems that arise. Repeated treatments are generally necessary in order to maintain the energy balance and relief from pain or symptoms, Milbradt said. As a general rule, he recommends that patients begin with two treatments a week, with each treatment lasting about 45 minutes.
"Needles are inserted at the beginning of the treatment, and the person usually just lays there and relaxes," Milbradt said. Most people feel no pain. Compared to hypodermic needles, acupuncture needles are very slender and flexible; typically they are no bigger around than a human hair of a piece of thread.
Miller said she looks forward to her treatments. "You get so relaxed," she said. "It's an enjoyable experience. It's not like going to the dentist. It doesn't hurt." And best of all, Miller knows she will be pain-free after the treatment, as well.
"The beauty of Chinese Medicine and acupuncture is that I can take people and restore balance to their system in a really comprehensive way," Milbradt said.
Acupuncture Today
April, 2009, Vol. 11, Issue 04
Bonghan Channels in Acupuncture
By David Milbradt, Lac
This article is posted online at: http://www.acupuncturetoday.com/mpacms/at/article.php?id=31918
As a practicing acupuncturist, I find that I continually wonder how a few well-placed needles can have such transformative results in my patients. Over the past 10 years I have read explanations that vary from the vague and mystical idea that the needles move qi in the meridians to scientific explanations where the effects of acupuncture stimulus are explained entirely by its influence on the nervous system. I read all of these theories with interest, but somehow they do not quite explain the day-to- day changes that I see in my clinic. Most of these theories seem limited and tend to restrict or underestimate the diversity of healing responses that I see in my patients.
Recently, however, a number of scientific papers have been published that have the potential to revolutionize our understanding of how acupuncture works. A group of Korean researchers have rediscovered threadlike microscopic anatomical structures that correspond with the layout of traditional acupuncture meridians or channels. Acupuncture channels are no longer imaginary lines, but specific anatomical structures that, until now, have not been recognized by current theories of anatomy. These channels have been found inside of blood and lymphatic vessels and they also form networks that overlay internal organs.
The channels are called Bonghan channels after Kim Bonghan, a North Korean who published papers describing them in the 1960s, a decade before acupuncture was introduced to the American public. Although his discoveries were confirmed by the Japanese researchers Fujiwara and Yu in 1967, his work was discounted by other scientists because he never revealed his formula for the staining dye that revealed these structures. Almost 40 years later, Kim's discoveries have been confirmed by a variety of studies with rats, rabbits and pigs. Stereo-microscope photographs and images from transmission electron microscopy in the research papers show assemblies of tubular structures 30 to 100 micrometers (µm] wide (red blood cells are 6-8 µm in diameter).
Apparently these structures have remained undiscovered for so long because they are almost transparent and so thin that they are barely visible with low-magnification surgical microscopes. They are also easily confused with fibrin, which coagulates and obscures these structures when there is bleeding in dissected tissues. Now that they have been rediscovered, researchers are investigating their composition and function. The tubular structures that make up Bonghan channels contain a flowing liquid that includes abundant hyaluronic acid, a substance that cushions and lubricates the joints, eyes, skin and even heart valves. Also visible in the photographs are small granules of DNA or microcells about 1-2 mm in diameter that contain chromosomal material highly reactive to stem-cell antibody stains. When these cells were isolated and then induced to differentiate, they grew into cells of all three germ layers. These may be our body's natural source of pluripotent adult stem cells, with the potential to develop into any cell in the body.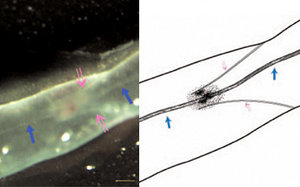 Figure 1. A stereomicroscopic image of the lymphatic vessel around the caudal vena cava of a rat. The photograph (left) and its illustration (right) show the novel threadlike structure (solid arrow) that passes throw the lymphatic valve (open arrow). The photograph was taken in vivo and in situ, and a piece of black paper was put under the lymphatic vessel to exhibit the target clearly. The scale bar is 100 mm. Bonghan channels are also being compared to fiber-optic channels in the body. These channels may be able to carry an extremely high density of information far beyond the limited, one-way signals of the nervous system or the diffusive information carried by hormones in the blood stream. A 2004 paper describes how biophotons, produced by animal tissues, may be emitted by DNA molecules to produce a laser-like coherent light capable of carrying an enormous volume of information through the Bonghan channels. The idea that acupuncture channels conduct light has already been substantiated by Russian research published as early as 1991. They found that the light-conducting ability of the human body exists only along the meridians, and can enter and exit only along the acupuncture points. This finding has been confirmed by a 1992 study in the Journal of Traditional Chinese Medicine and a 2005 study in the Journal of Alternative and Complementary Medicine where moxibustion and infrared thermography were used to trace meridian pathways.
Kim Bonghan believed that the meridian system of communication was in charge of the formation of the embryo and the control of growth throughout the organism. He did a series of studies on the embryonic development of the meridian systems of various animals. He found that a chicken embryo begins to develop Bonghan channels within 15 hours of conception. It appears that Bonghan-channel communication directs the development of all internal organs and may provide critical information-feedback loops that create bilateral symmetry in our body.
The science of embryology has a clear understanding of only the very earliest stages of fertilization and development. The unfertilized egg has a top and bottom, but there is no distinction between left and right or front and back. An acupuncturist would say that the orientation of ren and du meridians has not yet been established. Without this primary axis of orientation, the embryo cannot develop. The stimulus must come from the outside world and it is provided by the action of the sperm entering the egg. From that moment on, a guideline is laid out from the entry point of the sperm to the top and bottom poles of the cell. The first time the fertilized egg divides into two cells everything lines up along that meridian. As the embryo continues to develop the side on which the sperm has entered becomes the belly or yin side, which is subdivided into right and left orientations by the ren meridian. The opposite side is the back or yang side which is subdivided by the du meridian.
In Mind and Nature, Gregory Bateson says that what happens next is a mystery in the science of embryology. "What controls the nearly perfect external bilateral symmetry of the mammalian body? We have remarkably little knowledge of the message system that controls growth. There must be a whole interlocking system as yet scarcely studied." Bonghan channel researchers appear to have discovered that system. It is the only anatomically distinct structural network that could possibly handle the high volume of information that would be necessary to control embryological organization.
This relationship between acupuncture and embryology has also been explored by Charles Shang, MD, who pointed out several striking physiological similarities between acupuncture points and embryological organizational centers. Both are areas of high electrical conductance and both contain a high density of gap junctions, cellular organelles that facilitate cell to cell communication. Shang theorizes that the acupuncture points are the same as the discrete organizational centers that embryologists have found to control the development of embryos. He postulates that this system of growth control centers or acupuncture points shape the embryo and then persists in mature organisms for the purpose of coordinating information, regulating homeostasis and managing the complexities of ongoing repair and renewal of the body at a cellular level. Although Shang's writing predates the recent research on Bonghan channels, he theorizes: "The meridians may be a convenient way of activating intrinsic adult stem cells."
Because the meridian system organizes the development of the embryo from the very beginning, well before the circulatory and nervous system are established, it is not surprising to find that these systems often overlap and interact. Many studies have clearly shown that the stimulation of the meridian system has a profound effect upon both local blood circulation and imbalances in the nervous system. Furthermore, because embryonic development reflects evolutionary development, it is quite likely that the meridian system has more ancient origins than other physiological systems. Shang states, "Its genetic blueprint might have served as a template from which the newer systems evolved."
Plants do not have a nervous system, yet they display a high degree of structural organization and complex responses to their environment. Research published in Scientific American in August 1984 that describes the effects of light transfer through plant stems may have been looking at the ancestral precursors of the meridian system.
Shang's growth-control model of the meridian system does much to explain why acupuncture has so few side effects. "Conventional nerve stimulation usually results in unidirectional effects. For example, vagal stimulation slows down heart rate ... However, acupuncture at PC6 accelerates bradycardia and decelerates tachycardia. Acupuncture at ST36 suppresses hyperfunction (as in diarrhea) and stimulates hypofunction (as in constipation) of the gut motility." Acupuncture is very different from conventional nerve stimulation because it activates a unique communication network that restores normal function in the body. Activating the meridian system restores both hyperfunction and hypofunction to homeostasis; the possibility of any adverse side effects is extremely low.
I believe that we need to take this line of thought one step further. If acupuncture activates a network of communication that restores normal function in the body, we should not only expect to see the absence of adverse side effects but also expect to see improvements in function and symptoms that go beyond conventional clinical expectations. I think that almost all practicing acupuncturists have seen patients with unexpected improvements that show up after treatments. I am surprised that this is rarely mentioned in journals and never in textbooks. This may be because we have a limited understanding of how acupuncture works and this, in turn, limits the way we measure our success.
As acupuncturists, our understanding of how acupuncture works sets up a framework of belief that can either limit or expand our expectations for practice outcomes. We can see acupuncture as a branch of neurology to be applied like conventional drug therapies to temporarily relieve pain or we can believe that we are tapping into a unique system of organization far older and deeper than the nervous system.
Beaver Dam Daily Citizen Business News
Shari Friedrichs of Abundance Acupuncture, Beaver Dam has recently become certified as a Diplomat of in Oriental Medicine by the National Certification Commission for Acupuncture and Oriental Medicine. Shari has been with Abundance Acupuncture since 2005. She graduated with a Bachelor of Science degree in Nutrition and a Master of Science degree from the Mid-West College of Oriental Medicine in Racine, WI. She was awarded a state license to practice Acupuncture in 2008.
Shari specializes in treating children and women's health issues with Acupuncture and Chinese herbs. Her post graduate studies include classes at Guangzhou University in China, a three year graduate mentorship program with Sharon Weizenbaum, a world renowned Chinese herbalist, and further studies in pediatric acupuncture. Shari can be reached at Abundance Acupuncture at (920) 356-1578.